Constructing Excellence
Member profile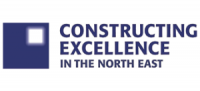 Member since: August 2015
CENE is a business support organisation for the North East construction industry, dedicated to delivering improved industry performance in order to achieve a better built environment. We are committed to working with the industry, its customers and the government to make change happen and to deliver prosperity. We seek to improve performance, shift perceptions and, together with our partners, form a powerful voice for change.
However, we are not just about improving performance. We are also about celebrating what has already been achieved. Each year in May, we hold the Constructing Excellence in the North East Awards, a spectacular awards ceremony designed to showcase excellence and reward achievement from organisations and projects around the region. Now firmly established as one of the highlights of the business year, the Awards play an important role in raising the performance of those involved in delivering the built environment of today and tomorrow.

Service Network is the best professional network in the North East, and I've not found anything else inside or outside of the North East that compares to the quality of the events and information or the calibre and breadth of people in the room from across the professional services sector.

The event was really engaging - lots of interactive elements which kept it from feeling like a lecture. I found there to be lots of practical examples to help my understanding of the topic and how I can use the core principles within my personal and professional life. Extremely well organised, professional, inviting and thoroughly enjoyable. Thanks!